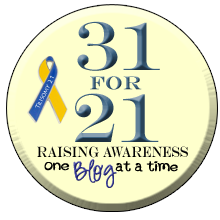 This is
Bennett
. I have been watching him on Reece's Rainbow for at least a year now. He doesn't have much information about him, just that he has Down Syndrome.
I have been watching
his post
and they still don't have any new info about him. Being that he is 6 years old, he has most likely been moved to an institution. Breaks my heart. He would be such a sweet addition to a family, he just needs a mom and dad.
Are you out there? Are you his mom? Are you his dad?
He is most likely recieving the minimum of care. So many institutions are simply jobs to the caregivers. The employees have no desire to interact with the children. Many children never learn to talk or even lose the ability, simply because the are not talked to. Can you imagine a child not being talked to? No one to look in your eyes and say hello.
Some children are raised in baby houses, these are like group homes, and a lot of those caregivers actually care. Those babies are loved on and have a some what normal growth. If they are blessed to be adopted from the baby house their trauma is much less. If not, they are sent from the love and care of the baby house to the cold war era, hospital type institutions.
The more I think about it the more heart broken I am. Just take a look at a sweet little boy that needs a family, needs a mommy to hug and a daddy to protect him.
Bennett.